ICTSI rises on prospects for 2023, acquisition news
SHARES in Razon-led International Container Terminal Services, Inc. (ICTSI) moved upward last week as investors assessed the port operator's financial performance as well as its subsidiary's agreement to buy ownership interest and subscription rights in a terminal operator. Data from the Philippine Stock Exchange (PSE) showed ICTSI ranking 10th in value turnover with P383.72 million […]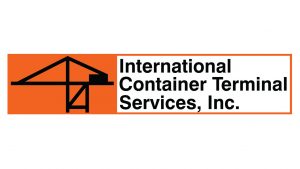 SHARES in Razon-led International Container Terminal Services, Inc. (ICTSI) moved upward last week as investors assessed the port operator's financial performance as well as its subsidiary's agreement to buy ownership interest and subscription rights in a terminal operator.
Data from the Philippine Stock Exchange (PSE) showed ICTSI ranking 10th in value turnover with P383.72 million worth of 1.92 million shares exchanging hands from Dec. 27 to 29.
ICTSI shares closed at P200 apiece on Thursday, lower by 2% from its Dec.23 close. Year to date, the stock retained its share price.  Local financial markets were closed on Dec. 26 due to a special non-working holiday and on Dec. 30 due to a national holiday.
"ICT has been moving in a generally upward bias the past few weeks as many investors are betting heavily on the company to outperform for 2023," Regina Capital Development Corp. Head of Sales Luis A. Limlingan said, referring to ICTSI's ticker symbol.
"Though [last] week did see some consolidation which was due to market weakness as a whole as trading volumes were depressed because of the holiday season and shortened trading week," he added.
In a separate e-mail, Philstocks Financial, Inc. Senior Research Analyst Japhet Louis O. Tantiangco said ICTSI's stock movement reflected investors' expectations for the global economy for 2023.
Mr. Tantiangco highlighted worries about a lingering global economic slowdown, risks of global recession due to rising interest rates, and the adverse effects of Russia's prolonged war on Ukraine and China's coronavirus disease 2019 (COVID-19) situation.
"Given ICT's dependence on the performance of the global economy, in particular global trade, a global economic slowdown, much worse, a recession, poses downside risks on the company's financial performance," he said.
In the last week of 2022, the Enrique K. Razon, Jr.-led company saw developments that include the signing by its subsidiary IWI Container Terminal Holdings, Inc. of an agreement to buy the ownership interest and subscription rights of Marubeni Corp., a Japan-based integrated trading and investment business, in Bauan International Port, Inc. (BIPI).
IWI Container Terminal is acquiring 2.05 million BIPI shares held by Marubeni representing a 20% stake for around P507.41 million.
BIPI, the operator of the Bauan terminal, supports cargo movements in and out of the Calabarzon (Cavite, Laguna, Batangas, Rizal, and Quezon) region.
For Mr. Limlingan, the acquisition is another positive update for the company. He noted, however, that the market's reaction might be delayed as fund managers were mostly on a break last week.
Mr. Tantiangco said the move to acquire an additional 20% stake through its subsidiary wasn't given much attention by investors as the focus was more on the global economic prospects for 2023.
In the third quarter, ICTSI reported a 42.6% rise in attributable net income to $170.66 million. Its consolidated revenues from port operations during the period grew by 20.4% to $595 million.
Claire T. Alviar, a research analyst at Philstocks, projects ICTSI's earnings per share in 2022 to reach $0.31, which would be 71% higher than the 2021 figure if realized.
An improvement in the global economic outlook could entice investors to consider the port operator, Mr. Tantiangco said.
"This would include global demand being able to withstand the rise in interest rates so as to keep the flow of global trade healthy. The solving of problems weighing on the world economy such as the Russia-Ukraine war and China's COVID-19 situation is also seen to help," he added.
"Immediate support is seen at P190.00. Immediate resistance is seen at the P205.00-P207.00 range."
For Mr. Limlingan, investors are always ready to buy into the company, thus any market correction would provide the opportunity to do so.
He pegged support and resistance levels at P196.00 and P208.00, respectively. — Abigail Marie P. Yraola